As men, having a regular skincare routine is essential for good skin, even if it's low maintenance. Men deserve to have beautiful skin too!
Skincare routines are not just for women anymore, and self-care is not an exclusive female privilege. No matter your gender, we all experience issues like wrinkles, ageing and dryness of the skin, the appearance of age spots, dark circles, puffiness, and blemishes! In 2002, we were pioneers when we created ClarinsMen, a range of skincare specially formulated for men. The complete range of targeted products for the body and face that can be used by men of all ages.
It's for washing, hygiene, beards and hair. These products meet the specific needs that men have for hydration and vitality. Men who deal with razor burn and stubble require a range of face and body skincare that is specifically designed for their skin.

Read on for our tips on creating an effective yet simple men's skincare routine.
01

Skin hygiene tips

for men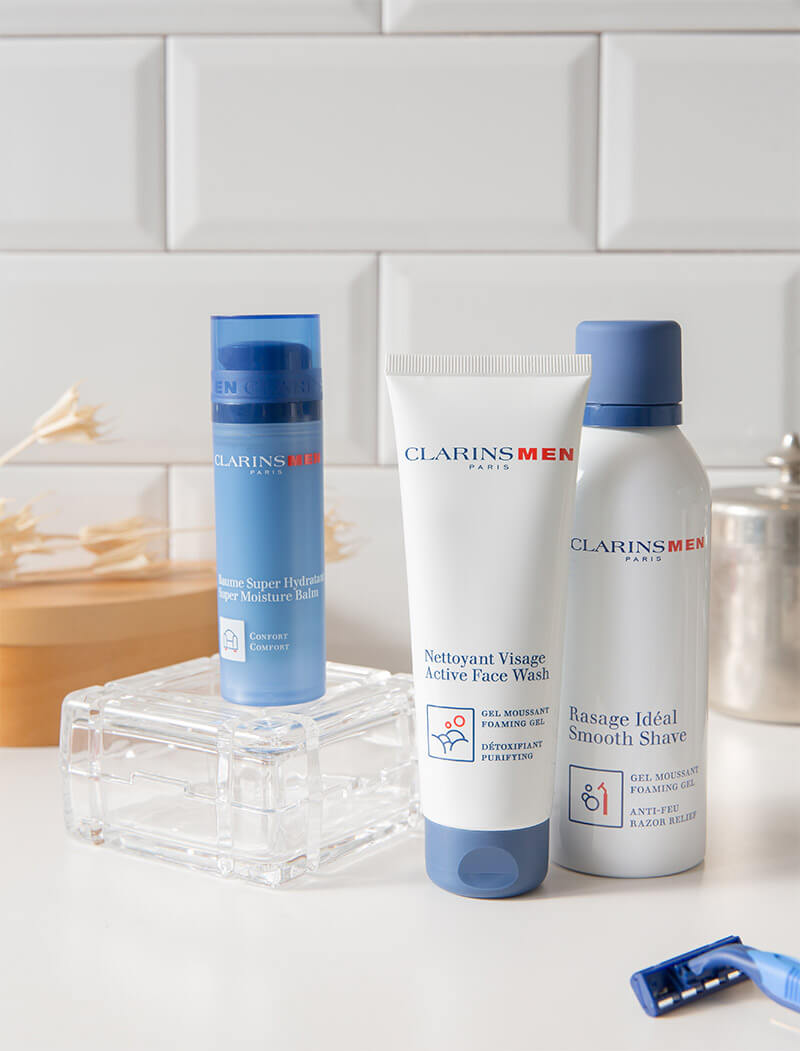 Cleanse your skin to get rid of impurities and traces of pollution.


Our ClarinsMen face cleansers are designed to help men cleanse their skin every day. Better than soap, ClarinsMen Active Face Wash cleans your face and prepares it for shaving. This skin care product is a gentle cleansing foam with the purifying extracts of grindelia and checkerberry, which detoxifies and clarifies the epidermis, unclogs pores, and tones and protects the skin.
Before facing the working day, wake up with a shower using ClarinsMen Shampoo & Shower, one of our best shampoo and shower combos for men. This cleansing product gently invigorates the body from head to toe. In a single step, you're washed and ready.

Your body and hair are cleaned and energised with provitamin B5 (panthenol) in this amazing product.

Finish your shower with a splash of cold water. Your skin is clean and clear, hair is shiny and full, the body is invigorated and totally set to tackle a busy day.
02

How to deep clean your face and take

care of your skin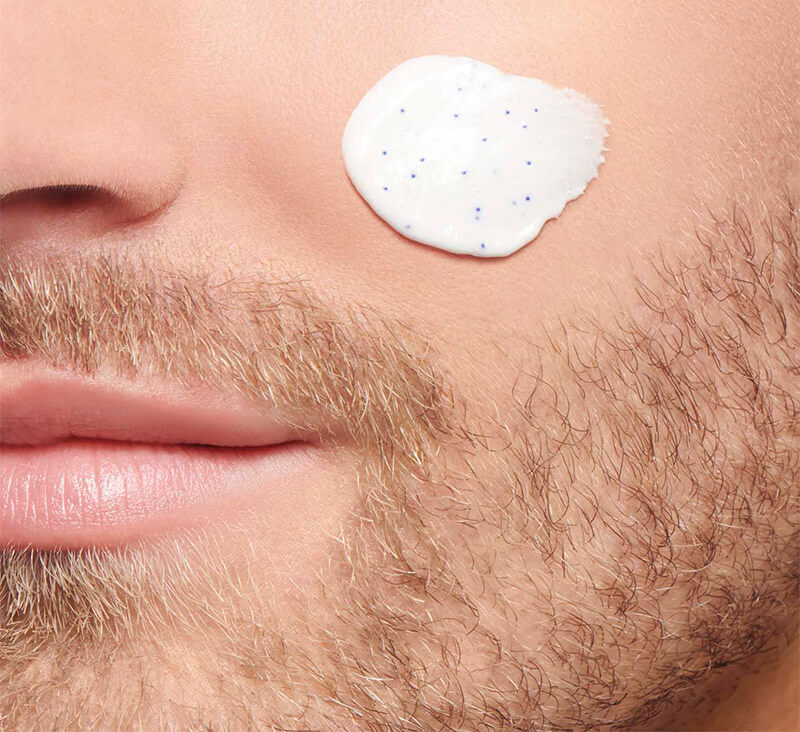 Whatever your skin type or age, the best way to deeply cleanse and purify your face is to exfoliate once or twice a week.
Scrub your face with one of our best exfoliating face cleansers for men, the ClarinsMen Exfoliating Cleanser, to make your skin fresh, soft and clean! This face scrub is a blend of exfoliating active ingredients that cleanse and purify with soapwort and zinc gluconate extracts. The creamy texture caresses the skin with hydrating comfort and softness. Avoid the area around the eyes, the most delicate part of the face. Rinse thoroughly with water to remove all traces of the scrub and impurities.

Here's a face care tip: apply the scrub in the shower after washing your hair to allow the steam to open your pores.
03

Shaving tips

for men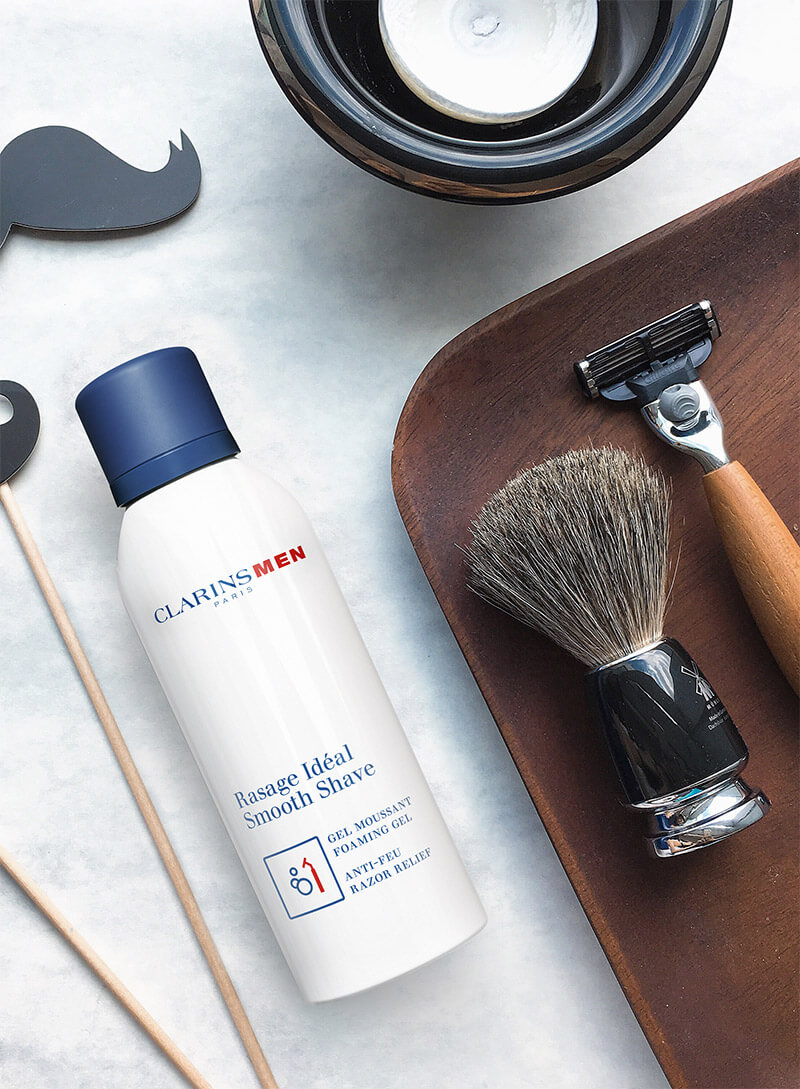 Shaving is a fundamental part of most men's daily routine.

As long as you properly exfoliate your skin beforehand, it won't be as susceptible to bumps or ingrown hairs caused by shaving.
Apply this ClarinsMen After Shave Energizer to wet skin, on areas that after shaved. Shea extract makes this after shave product gentle on the skin.
04

Do I need an

aftershave?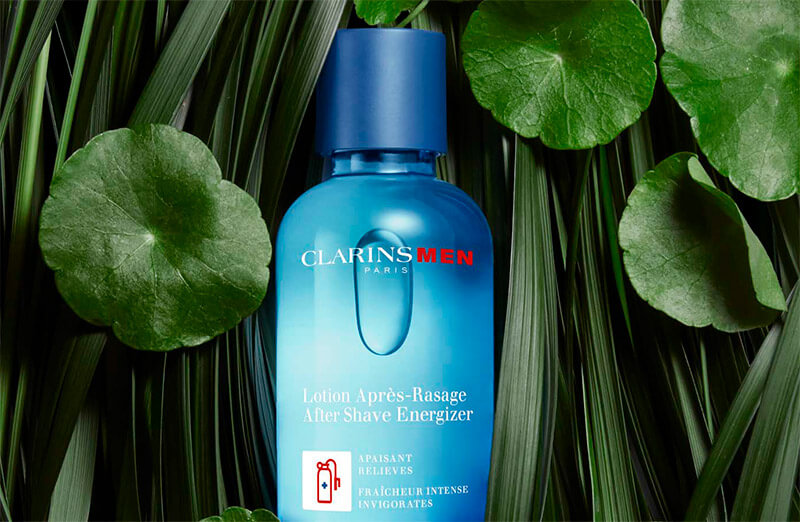 Yes, it is crucial for men to apply men's aftershave after shaving to soothe skin and avoid razor burn.
After shaving, thoroughly rinse with cool water to invigorate your skin and immediately apply ClarinsMen After Shave Energizer to reduce irritation from shaving.
05

Which ClarinsMen moisturiser should

I choose?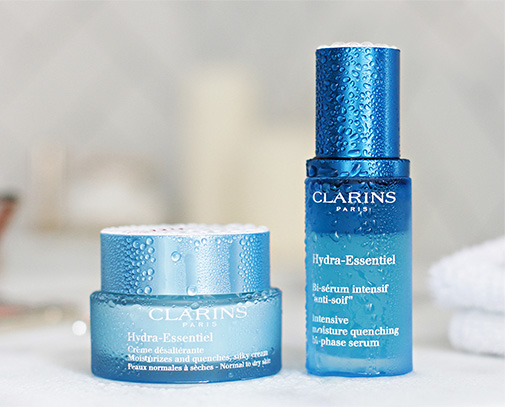 We recommend choosing a moisturiser based on your preferred consistency.

Formulated as a liquid, balm or gel, ClarinsMen moisturisers provide hydration at any age for even the most sensitive skin in need of nourishment. Regardless of which men's body or face moisturiser you apply every day, it relieves skin with complete hydration, designed for an active lifestyle and seasonal changes.
ClarinsMen Super Moisture Gel provides crisp, comforting freshness on the skin like a blast of cool air, which is exactly why it should be part of your skincare routine. Instantly refreshing upon application! ClarinsMen Super Moisture Balm intensely hydrates irritated and dehydrated skin, recommended for use during cold snaps or in extreme conditions.

Clarins Research blended organic leaf of life extract, which really kick-starts the skin's natural hydration, with bison grass extract to give all the products in this line of moisturisers soothing and energising properties.
06

What are the best anti-ageing products

for men?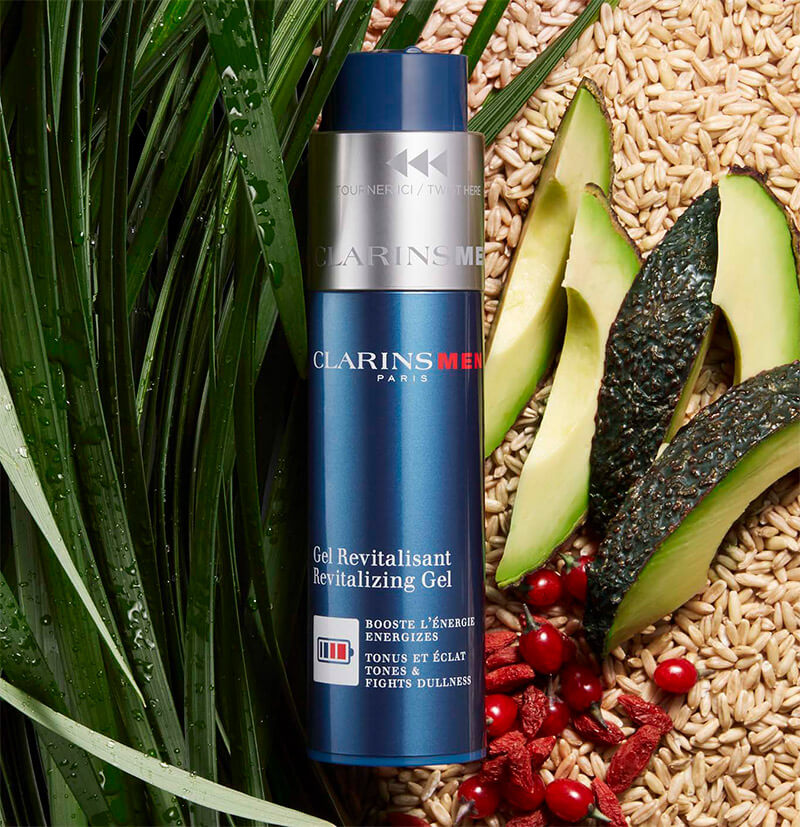 Over time, men's skin becomes less firm and elastic.

Their faces are etched with wrinkles and fine lines. They might add a certain distinguished charm, but the ClarinsMen range offers targeted anti-ageing treatments for men to apply morning and night to reduce the signs of ageing.
Double Serum contains benefits for all skin types, even men's skin! ClarinsMen Line-Control Balm is for anyone who wants to give their skin a youthful boost. It visibly reduces the first signs of ageing, making skin radiant and toned once more. Finish off with a special treatment for the eye area to target puffiness, dark circles and crow's feet (wrinkles), such as our Energizing Eye Gel and ClarinsMen Line-Control Eye Balm brighten up and rejuvenate your eyes.
07

Why did you create a new range of men's energising

skincare products?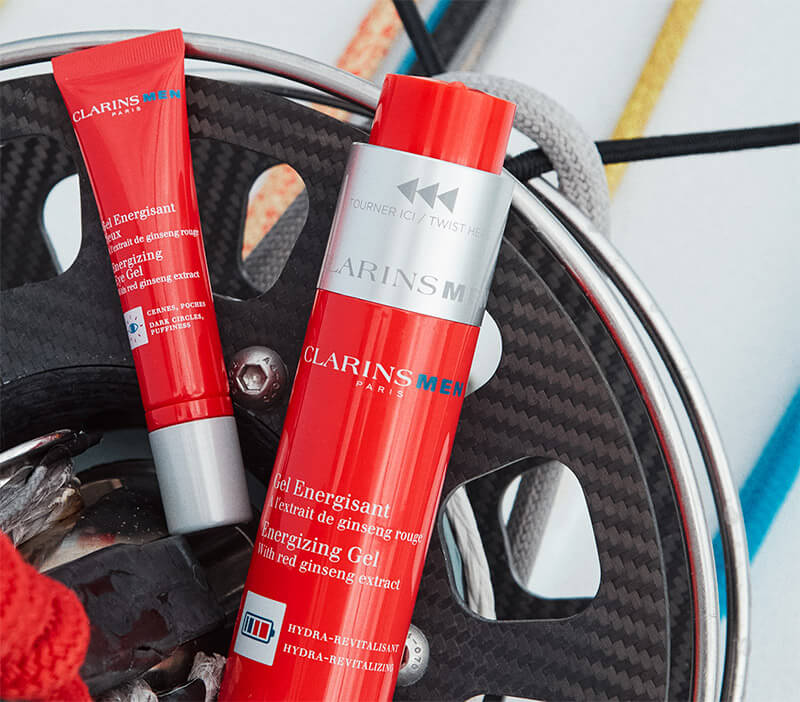 We are expanding our men's range by developing the ClarinsMen Energy expert range to complement moisturisers or anti-ageing treatments that target the effects of ageing on the face.

Men's skin is 25% thicker than women's, and it's coursing with androgens. Since these cells renew faster, men's skin naturally expends more energy than women's skin.
Clarins Research demonstrated that an intense, hectic and stressful lifestyle directly impacts the mitochondria, the powerhouse that enables skin cells to function correctly. This impact results in a loss of radiance, signs of fatigue and premature ageing of the skin.

For women's skin, which doesn't have the same energy requirements, we made a specific treatment called Extra-Firming Energy, which is now one of the best anti-ageing skin care for men out there. A blast of energy for all skin types!
08

How is Clarins' innovation going to change

men's lives?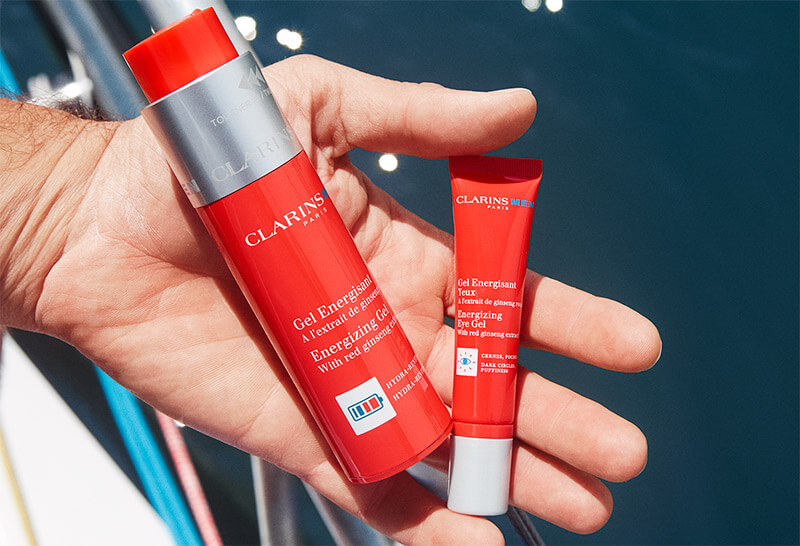 After discovering why the mitochondria's energy reserves run low, our Laboratories created the ClarinsMen Energy range to increase this missing energy in skin cells to ensure they function and renew themselves like they should.
Oxidative stress due to an intense lifestyle damages the powerhouse. A packed schedule, lunch on the go, jet-lag, family life, daily stress, fatigue and lack of sleep can all cause skin to appear tired and dull.

The next generation of expert skincare products is a bundle of energy for men. No more drawn-out features, dark circles and bags under the eyes! Recharge your batteries and get going!
09

What botanical breakthrough is behind this next generation of

men's skincare?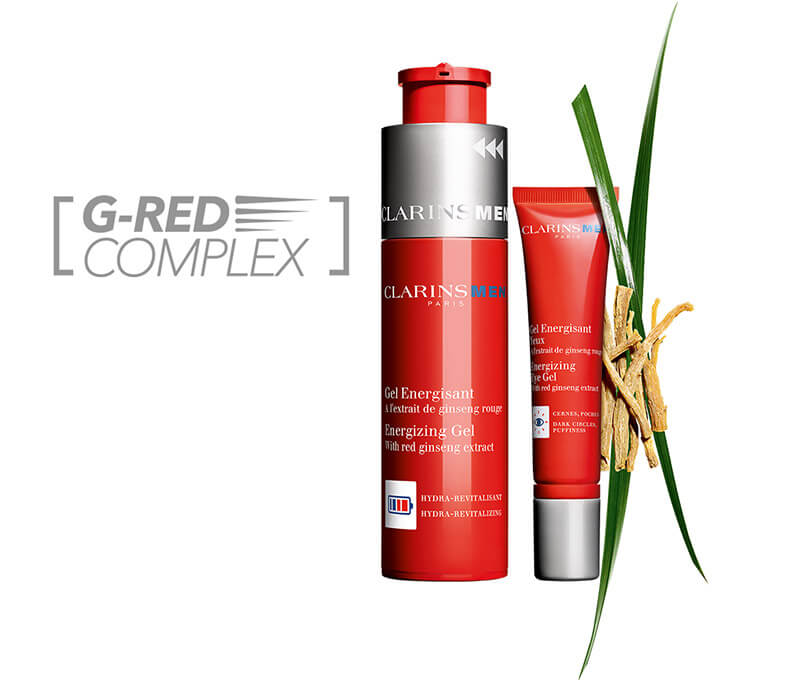 The new ClarinsMen Energizing Gel and ClarinsMen Energizing Eye Gel are enriched with G-RED Complex.

We have blended organic red ginseng extract, an ultra-powerful active ingredient used for thousands of years in traditional Chinese medicine, with organically grown bison grass extract and gymnema extract, a very popular herb used in Ayurvedic medicine in India. Organic red ginseng helps produce energy in the skin, even under extreme lifestyle conditions. This energising and stimulating power, combined with gymnema that helps to boost the synthesis of ATP (the energy molecule that cells need to function properly), makes these skincare products a potent cocktail of fuel for the skin.
Their anti-pollution complex protects the face from all sources of inside and outside stressors. They have an ultra-refreshing, invisible and non-greasy texture that's a pleasure to apply. The skin is hydrated, relaxed and strengthened.
10

What are the benefits of organic

red ginseng?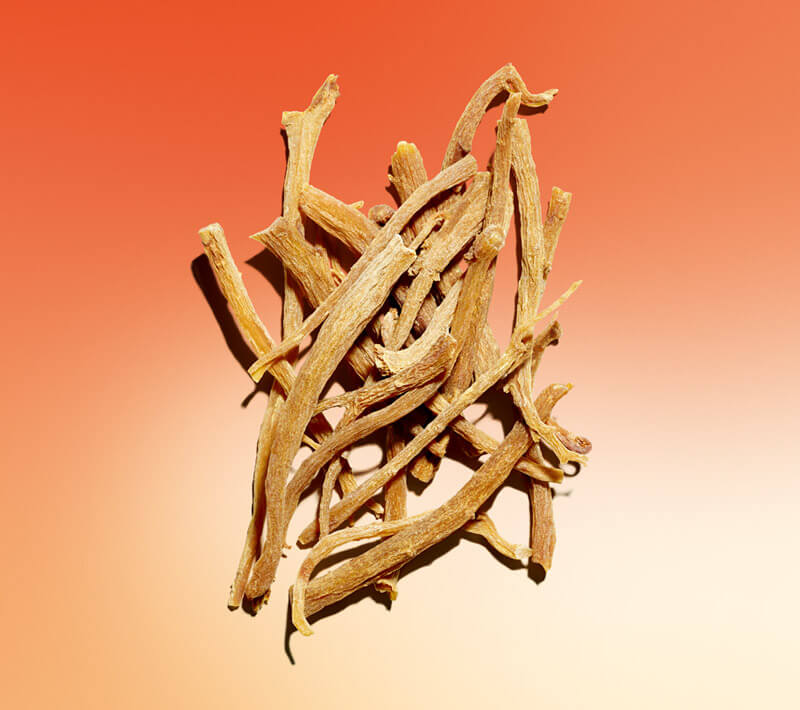 Less well-known than white ginseng, the root of organic red ginseng has the same active properties, but contains higher concentrations that make it more effective.
In skincare and cosmetics, it is used for its energising benefits. Ginseng has many different evocative names, such as flower of life, root of heaven, and root of immortality. It is an adaptogen herb, meaning it helps the body to adapt, and increases its resistance to all types of emotional or physical stress. A staple in traditional Chinese medicine, organic red ginseng has the ability to boost vital energy.


11

How do you re-energise the

skin deep down?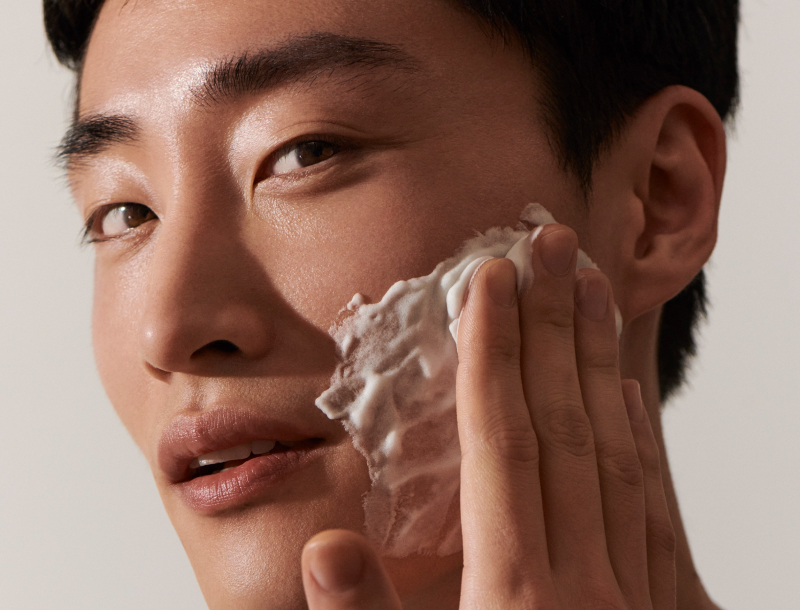 Treat your face to an energy treatment with an Energising Facial for Men at one of our Clarins Skin Spa.
This energising treatment was specially developed for men's skin, which is susceptible to external stressors and irritation caused by shaving. Enjoy 60 minutes of relaxation in our expert care. Exacting treatments that purify, hydrate and restore your skin's vitality and reduce the appearance of wrinkles and dark circles. Make the most of this comprehensive treatment that cleanses, moisturises and invigorates, and surrender to the amazing feeling of total well-being. You'll look rested, relaxed and completely refreshed.

Shop our ClarinsMen range of skin care products for men (that includes shampoos, moisturisers, cleansers, face creams, and anti-ageing skincare) and book a bespoke Energising Facial for Men at one of our Clarins Skin Spa today!
Questions in the same category