How to
reduce
puffy eyes

and
dark circles
We all notice how the appearance of our eyes changes day in, day out.
They're the first place we look on our own face or when we meet someone else. Even at first glance, a look speaks volumes about your mood and personality.
Putting on eye make-up is often the first beauty ritual we learn in our early teens. A single stroke of eyeliner, darkening the lids or adding some brightly coloured eyeshadow brings out your eyes and shows the world your point of view.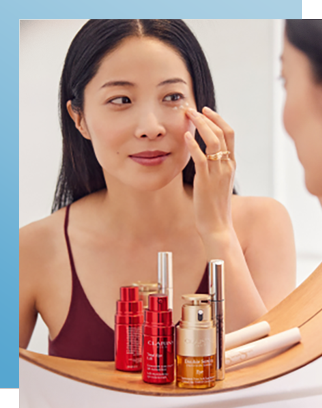 Keeping your eyes and face feeling fresh and energised can be a process involving several tricks and techniques. Our experts share their tips and tricks on how to brighten and reduce puffiness in your under-eye area, dark circles and wrinkles with the Clarins special eye products.
01

What causes dark circles and puffiness under

the eyes?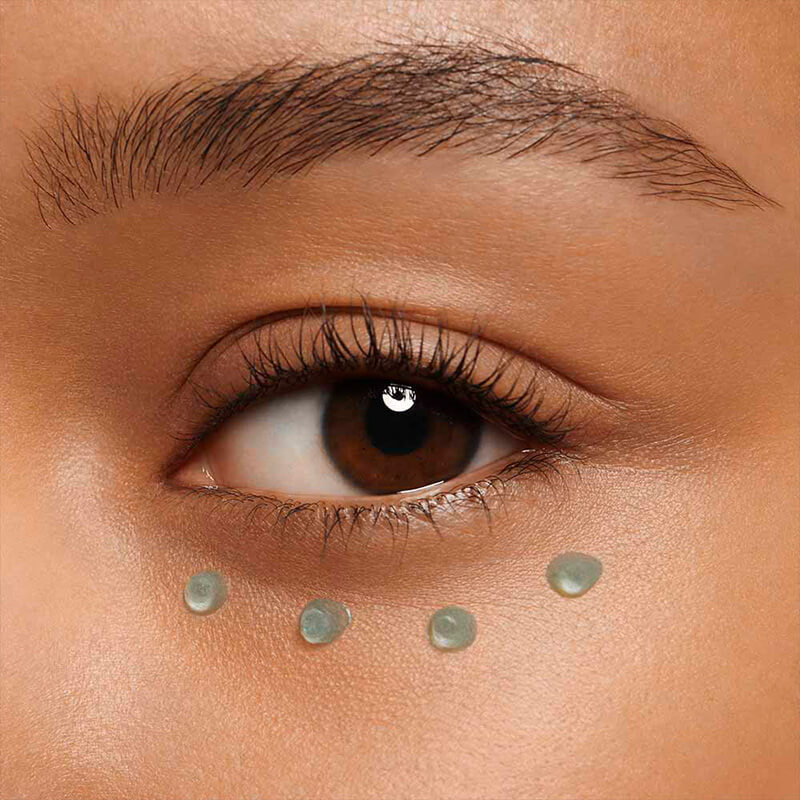 The skin around the eyes is much thinner than on the rest of the face, which makes it highly sensitive and often the first area to show the effects of ageing, stress or fatigue. Signs of ageing, excessive stress or tiredness are often the reasons behind dark circles and under-eye bags.

Puffiness in the under-eye area is caused by an accumulation of water and fat. Lifestyle aspects such as excessive use of alcohol, smoking and the lack of sleep can amplify water retention and increase puffiness under the eyes.

Small changes to your habits like increasing the amount of sleep you get each night, and targeted under-eye skincare can reduce dark circles under your eyes and help you feel fresher.
02

Why should I use Clarins special

eye area skincare?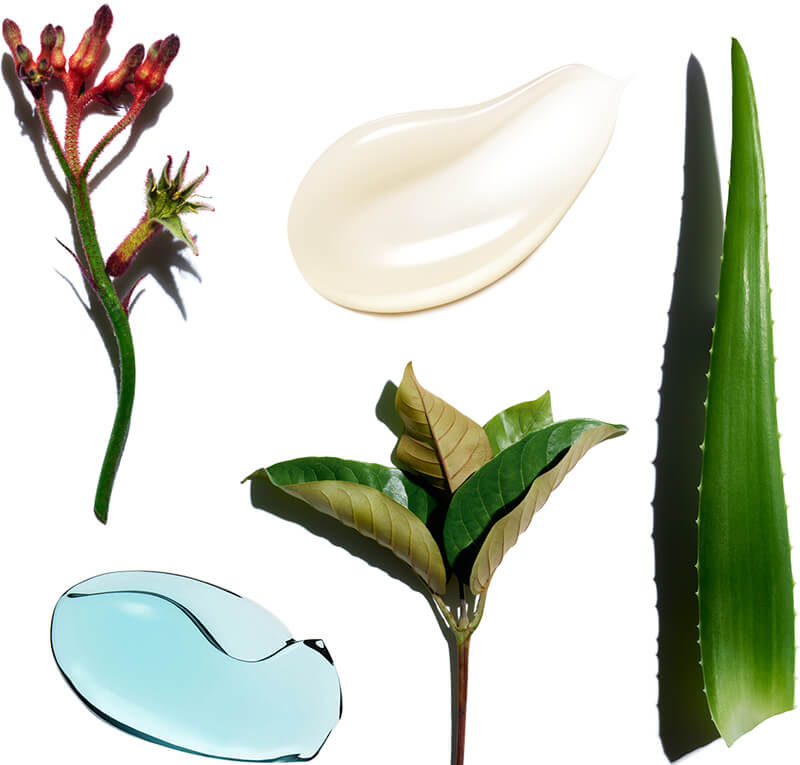 Our delicate eye area deserves the very best eye care products that target wrinkles, dark circles and puffiness. Our skincare specialists have brought together the finest natural ingredients and created a line of eye skin care products with natural active ingredients that will help you to reduce puffy eyes and dark circles. We can all benefit from turning to nature for ingredients known for their powers to drain, relax, hydrate or smooth your skin.

Try implementing eye care treatments in your selfcare routine and give your under-eye area the tender loving care it deserves. Ageing is a privilege and our nature-derived products have been developed to keep us feeling great throughout the natural process.

Our researchers work relentlessly to develop new products that help lift and brighten puffy eyes and dark under-eye areas, keeping your skin looking healthy and energised for years to come. Our targeted, high-performance eye area skincare treatments are made from rare plant extracts such as organic Harungana extract, Kangaroo Flower extract, and Chestnut extract, which are selected from around the world to make your eyes shine. Nature's looking out for you!

Achieve younger-looking eyes with the brand new anti-ageing eye serum, Double Serum Eye! This eye serum for dark circles, wrinkles and fine lines is infused with Turmeric and the strengthening properties of Organic Wild Chervil extract to preserve the five vital functions of the skin around your eyes. Horse Chestnut helps to reduce puffiness, while Ginger Lily helps to combat the premature signs of ageing.
03

How do I target my eye skincare

treatment?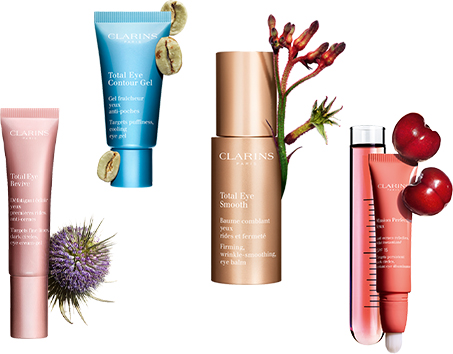 Be mindful of how delicate the eye area is and take appropriate care of it. Our tailor-made products for all skin types help you target different areas with the perfect combinations of natural ingredients. Our laboratories have developed a wide range of specific eye area skincare treatments that target the top three issues: ageing, dark circles and fatigue.

Each and every woman has unique skincare requirements. Our experts have formulated a range of eye skincare products to offer you the chance of discovering a unique combination of nature-derived products that make your eyes look fresh and radiant. Try one of our best eye creams for wrinkles, the Total Eye Revive for fine lines caused by lack of sleep or stress. For over 30s, we recommend exploring
our Total Eye Smooth to visibly firm, lift and smooth early wrinkles in the under-eye area.
04

When should you start using an eye skincare

treatment?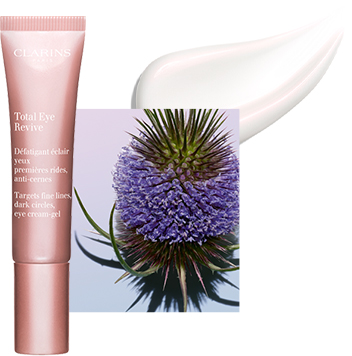 You can see the benefits of our eye care treatments as soon as fine lines and wrinkles appear around your eyes. Apply the refreshing and energising Total Eye Revive cream for wrinkles from the age of 25. The refreshing cream melts into the skin leaving it smoother and brighter. Let the power of Teasel extract work to visibly fight signs of fatigue and the appearance of dark circles and under-eye puffiness. In one step, the skin around your eyes is protected against the harmful effects of pollution and all signs of fatigue will disappear.
05

Why should I apply a hydrating

mask?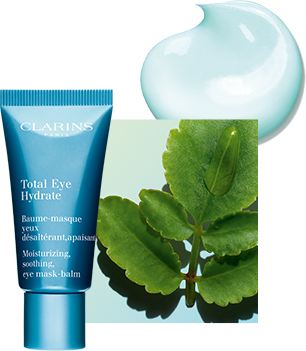 To chase away signs of fatigue and keep the eye area looking youthful, our beauty experts recommend applying
Total Eye Hydrate once or twice a week.

It's a 10-minute moisture boost that leaves your skin hydrated and radiant.

Fine lines due to dehydration will vanish. Our moisturising eye mask combines the natural hydrating properties of organic leaf of life extract, which acts similarly to hyaluronic acid, with horse chestnut extract, known to have a brightening impact on dark circles. The secret of this mask is its unique gel texture and with soothing active ingredients, which reduce signs of fatigue and leave the skin feeling hydrated. It's a hydrating sensation that feels so good, you'll want to leave it on all night!
06

How do I firm up the eye area?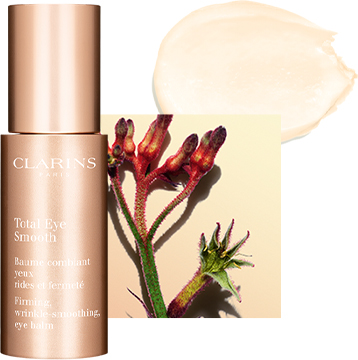 Two signs of skin ageing are loss of firmness and wrinkles at the corners of the eyes. Clarins has an intensive 2-in-1 treatment for women over 40 that fights crow's feet, dark circles and puffiness under the eyes. One of Clarins' best eye cream for mature skin, the Total Eye Smooth has a dual lifting effect which comes from a combination of organic girdle pod and Kangaroo Flower extract that stimulates collagen synthesis with active ingredients that target the eye area. Puffiness and dark circles don't stand a chance against Albizia and horse chestnut aescin extract.

Beauty tip: do a little home workout every morning to tone your lids! Open and shut your eyes while firmly pressing on the upper eyelid. Make sure you don't furrow your brow. Relax and repeat.
07

How else can I reduce wrinkles, dark circles

and puffiness?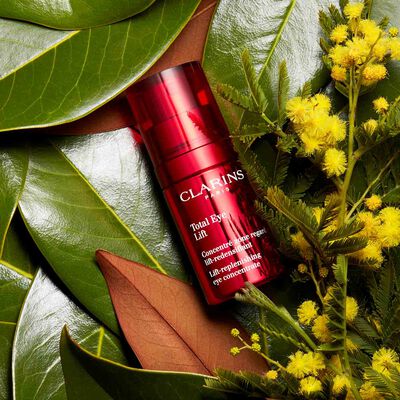 Clarins has created the Total Eye Lift for women who want an expert treatment that gently lifts the eye area and combats all the signs of ageing from one side to the other. Lift eyelids, firm the skin, and treat puffiness and dark circles.

Enriched with Organic Harungana, it is formulated to rebuild and improve the skin around the eyes. This plant from Madagascar has an amazing power to boost collagen synthesis. Thanks to a botanical concentrate containing 94% natural ingredients, the lifting effect of this eye treatment works in 60 seconds. This ultra-lightweight, ultra-smoothing,
ultra-toning cream beautifies the skin and acts as a base for flawless make-up. Once it's applied, amp up your lashes with Wonder Perfect Mascara 4D. It creates a wider gaze and smooths out eyelid creases, making your eyelashes look longer.
08

How can I make my eyes

look amazing?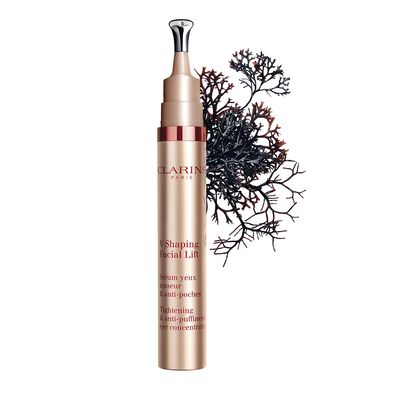 We recommend starting with a hydrating and firming eye skincare routine that includes an eye serum for wrinkles. Our experts advise you to start your routine by removing all traces of make-up with a cleanser specially formulated for the delicate eye area that won't dry out the skin, then apply a toner. This primes your skin to soak up the goodness of your day cream, night cream or special facial oil.

Lastly, take your pick from our line of make-up, eyeshadows and eyeliners- to bring out your eyes and your perfect look from your skin right to the tips of your lashes! To go one step further, treat your eyes to a quick Open Spa treatment and follow the beauty tips from our make-up experts.

Beauty tip: for youthful skin for years to come, don't forget to apply SPF daily as sun can be very damaging to our skin around the eyes.

Questions in the same category