"I feel tired and it shows!"
To combat signs of fatigue during pregnancy, we offer skincare designed to revitalise the skin from within. The skin is protected and regenerated, and recovers its suppleness and elasticity.
The best solution for a lacklustre complexion?
Double Serum and Multi-Active Day Cream. These two products revitalise the skin from within to help you feel radiant throughout your pregnancy.
Double Serum does wonders for the skin. More than just a serum, it is an anti-ageing concentrate rich in 21 plant extracts that boosts the skin's five vital functions: regeneration, hydration, oxygenation, nourishment, protection. Its unequalled dual phase formula leaves skin visibly more youthful-looking.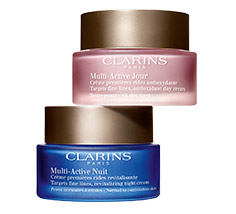 Multi-Active Night Cream Normal to Combination Skin
S$130.00
SHOP NOW
Multi-Active Day Cream - Normal to Dry Skin
S$125.00
SHOP NOW
By combining it with Multi-Active Day Cream, you can prevent the appearance of early wrinkles and preserve your skin's youthfulness. Next-generation capsules containing teasel extract (with antioxidant and revitalising properties) target the core of fibroblasts, the cells responsible for the skin's youthfulness. Protected from the harmful effects of a hectic lifestyle, your face stays looking younger for longer.
At night, pamper your skin with Multi-Active Night Cream to moisturise, regenerate, and boost the effects of a good night's sleep. The results: more radiant, smoother, firmer, and softer skin in the morning.
What kind of product should I use for my eyes?
The delicate skin of the eye contour area is often the first to suffer from dehydration during pregnancy, which causes puffiness and dark circles to appear. Apply Enhancing Eye Lift Serum daily to visibly reduce dark circles and puffiness, leaving the eye contour area looking brighter and well-rested.
How do I apply an eye serum?
Use a rice-grain size amount of serum. Follow the Clarins application method to optimise the effectiveness of your eye serum. Dab the serum onto the eye contour area using light draining pressure, working it very gently into the skin. Store the eye contour gel in the fridge overnight and apply preferably in the morning.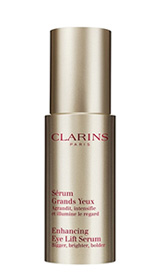 Enhancing Eye Lift
N/A
SHOP NOW